Our survey is specifically designed to make sure that you can answer questions honestly without being specifically identified.
​
Your anonymity is as important to us as it is to you, and it is our priority to ensure it at every step of the survey process.
Your answers, protected.
Feel Safe Answering, We've Got You Protected.
We know your privacy matters, which is why we built CultureID to protect your answers as an individual, demographic group, department, and entire company.
How we protect your answers:
"Mobile Pantry Program" is a food pantry on wheels! The Food Bank of Siouxland brings thousands of pounds of food to a host location for families and individuals to take home. Our focus is serving in all counties in our area that are underserved – meaning that through the Mobile Pantry Program: Food to You, all of our counties will receive the pounds of food needed to provide adequate nutrition to families in our Siouxland community.
---
This program is made possible thanks to the support of many individuals and organizations who help fund the program and who volunteer their time to serve those in need. If you would like to partner with us and be a host site, please contact us at (712) 255-9741. For the calendar containing the schedule of mobile pantries events, please follow this link: http://www.localendar.com/public/foodbanksiouxland.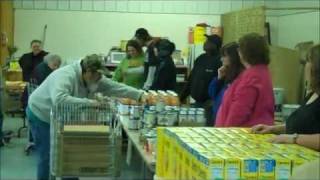 ---
---